Last Updated on August 15, 2023 by Angela Vaz
I've been traveling a lot recently.
And because I have a lot of acne, I do carry a bit of makeup and skincare with me at all times.
Packing for short road trips is easy because you can dump pretty much everything in your bag.
But packing for plane travel is a whole other equation.
In this post, I want to talk about how I pack my makeup for travel and what organizers I'm currently using so that you can pack your makeup safely and make sure that you're not wasting too much space in your bag for your essentials.
I have consulted my make-up artist friend (who travels via flights frequently) to ensure that all these tips are legit and work perfectly.
But before that really quick, get my free guide on how to really reset your life.
This post contains affiliate links, meaning I may make a commission at no extra cost to you if you decide to click on a link and purchase something. Click here to read the full disclaimer.
7 Genius hacks to packing your makeup perfectly for plane travel
1. Invest in a waterproof, sturdy makeup case
I just purchased this beautiful makeup case on Amazon and I love it!
Why I adore this case:
It comes in different sizes and styles (I got the back one)
It has adjustable dividers (you can take them out and adjust them however you like)
It has multiple compartments for brushes and a pocket behind the brushes so you can keep your eyeshadow palettes behind.
It's very easy to clean (just use wet wipes if you have any spillage)
It's lightweight but extremely sturdy, so you can ensure that your makeup won't take a beating when you put it in your suitcase.
It looks very professional – something that will look sleek and chic in your suitcase and you can carry it around.
It comes with nice pockets to hold all your brushes.
If you like carrying all your make-up in one bag, then this is the perfect solution. This is how mine looks: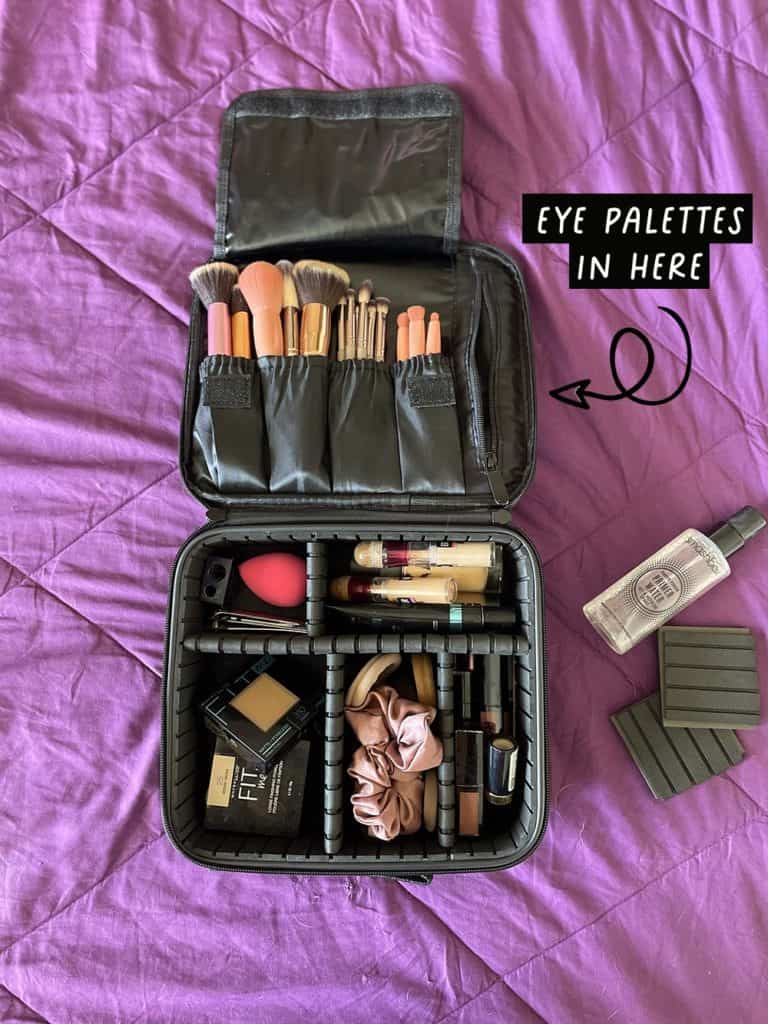 If that particular size is too small for you and you carry a lot more make-up, then check out this case which has the same design but comes in a larger size:
2. Carry your brushes separately
Now if the above make-up bag is too small for your brushes or you want to carry them separately so that you don't mess up your make-up bag, then get a make-up brush case to separately store your make-up brushes like this:
It has over 16 brush slots and comes with a detachable compartment so you can even store a palette in there.
If you like keeping your eye brushes and face brushes separate, this make up brush case is perfect for you.
3. Carry your skincare efficiently
There are 2 ways to ensure that your skincare is safe and doesn't take up too much weight.
Firstly, transfer your skincare to smaller bottles like these if necessary.
This particular kit also comes with a neat transparent, leak-proof bag so that you can carry it in your cabin baggage. It is also TSA-approved – which means it's safe to carry in your cabin bag.
This will ensure that it doesn't take up too much space in your bag and it will be light.
Please ensure that the maximum allowance per bottle is 100ml (3.4 ounces). Also, make sure that you're carrying all your skincare in a transparent kit so that it's see-through.
Now, if you carry a lot of skincare products and are comfortable carrying them in your carry-on luggage, then you can use a safe, leak-proof toiletries bag like this:
This bag is big enough for all your skincare, loofah, facewash, shampoos, etc.
It also comes with a hook, so you can open the bag and hang it in your hotel bathroom.
It's very spacious and has see-through compartments which make it easy to organize your skincare and toiletries.
4. Carry your perfume in an atomizer
Perfume bottles can break or explode in your luggage and it's really risky carrying the whole perfume bottle especially if you're carrying expensive perfume.
I found this neat atomizer on Amazon which is refillable and portable. It was so cool and genius, I ordered a set for my whole family.
5. Try to carry multi-purpose makeup
Whenever I am packing for international travel, I always try to plan my makeup in advance.
I'm pretty minimalist when it comes to makeup but I like to be very selective of what I carry.
For instance, I'll pack lipstick that can be used on my lips and cheeks.
So, try to carry multi-purpose makeup that will save you space and weight. For instance, this multi-stick can be used for eyes, lips, and cheeks.
And if I'm traveling to a place where I'll be outdoors for longer, I usually carry very nude and minimalist makeup.
So you can opt for a nude eye palette like this if you're trying to go for a clean-makeup look.
Or if you're looking for an eye palette with a broad color range to go with your tropical dresses and outfits, get a color board that has highly pigmented eye makeup.
6. Carry a waterproof eye makeup
You never know what the weather is going to be like when you travel to a new place.
If it's going to rain a lot or will be extremely humid, then always carry waterproof eye makeup.
I only use waterproof eyeliners and mascaras so that my eye makeup never runs.
This eyeliner by two-faced is my favorite – it has lasted me nearly 30+ hours on one occasion and the turquoise shade is absolutely beautiful.
I'm the one on the left with curly hair and the only eye makeup I'm wearing is that eyeliner: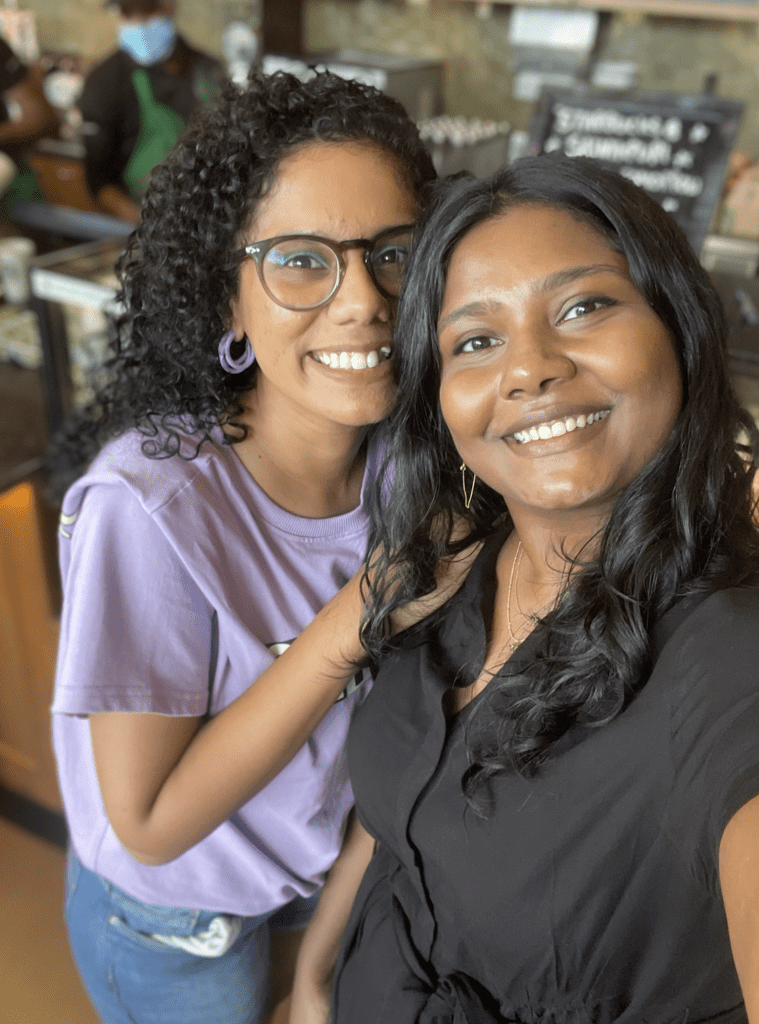 This eyeliner suits any skin tone. I've got wheatish brown skin and the eyeliner makes my eyes pop!
I also love this mascara because I have almost no eyelashes and it does wonders for me!
Both the eyeliner and mascara I've mentioned are completely waterproof and only melt away with makeup remover.
7. Pack your foundation carefully
If you're visiting a hot country or want to travel light, then carry a tinted sunscreen or a tinted moisturizer.
These also work as multi-purpose products so you'll end up carrying very few products and you can save a lot of space and weight.
Using these light products will make sure your skin feels light and won't be too cakey.
It will help your skin breathe which is another pro!
If you have to carry a foundation, you can transfer your foundation to a smaller refillable bottle like this:
Conclusion
These are all the best tips I myself have used to pack my skincare and makeup for plane travel.
Please leave any questions you may have in the comments below – I'm more than happy to answer them.
I am not a makeup expert, but I do love organization and love to be minimal and travel light.
Here is a checklist of all the makeup and skincare products I'm carrying with me in my bag:
Makeup:
Primer for oily skin
Foundation
Concealer
Powder and loose powder
Eyeliner
2 Eyepalettes (nude and bright colors)
Mascara
Eyebrow pencils
Lipliner
Liquid Lipstick (non-transferable)
Lipstick that works as blush and lipstick
Bronzer
Makeup brushes (for face and eyes)
Skincare
Sunscreen
Facewash
Moisturizer
Salicylic acid serum (I have oily skin)
Frequently asked questions when packing makeup for travel
1. Can I carry my makeup in my carry-on bag?
Yes. According to TSA, all of your liquid makeup and skincare should go in a transparent bag that should not be more than a quart size (7″ x 8″ approximately).
The items you can carry include:
Toothpaste
Shampoo
Conditioner
Dry Shampoo
Liquid Foundation
Liquid Lipstick/lipgloss
Mascara (yes, it counts as a liquid)
Liquid soap
Any gels/creams/liquids can be carried in this transparent case.
If you're carrying powders/lipsticks, they should not be included in this bag. They can be packed normally in your carry-on luggage.
Please note that you can only carry 1 bag of liquids in your carry-on luggage. Everything else should be carried separately.
You can carry all your other makeup like powders, lipsticks, eyeliners, and makeup brushes separately in your carry-on luggage. This is not an issue whatsoever.
2. Can you bring powder makeup on a plane?
Yes, but if it is over 350 grams or 12 ounces, they may screen it further.
3. Can you carry nail clippers on a flight?
Nail clippers are allowed in some countries, but I've seen a police officer confiscate my mom's so please check the rules of the country you're traveling to.
Sometimes, you can carry your nail clippers and nail scissors – however, you will have to put them in your cabin baggage if the blades are over 6cm long.