Last Updated on August 15, 2023 by Angela Vaz
Are you and your friends bored on a Friday night?
You all got together thinking the night was going to be a blast, but you don't know how to pass the time and have fun.
That's okay!
In this post, I am going to give you tons of ideas so you know what to do on a Friday night with friends.
There are tons of activities that involve no drinking or going out either! So, I'm going to give you tons of options so that you have the liberty to choose!
But before that really quick, get my free guide on how to really reset your life.
This post contains affiliate links, meaning I may make a commission at no extra cost to you if you decide to click on a link and purchase something. Click here to read the full disclaimer.
What can you do with your friends at night? 45 fun ideas!
1. Play a board game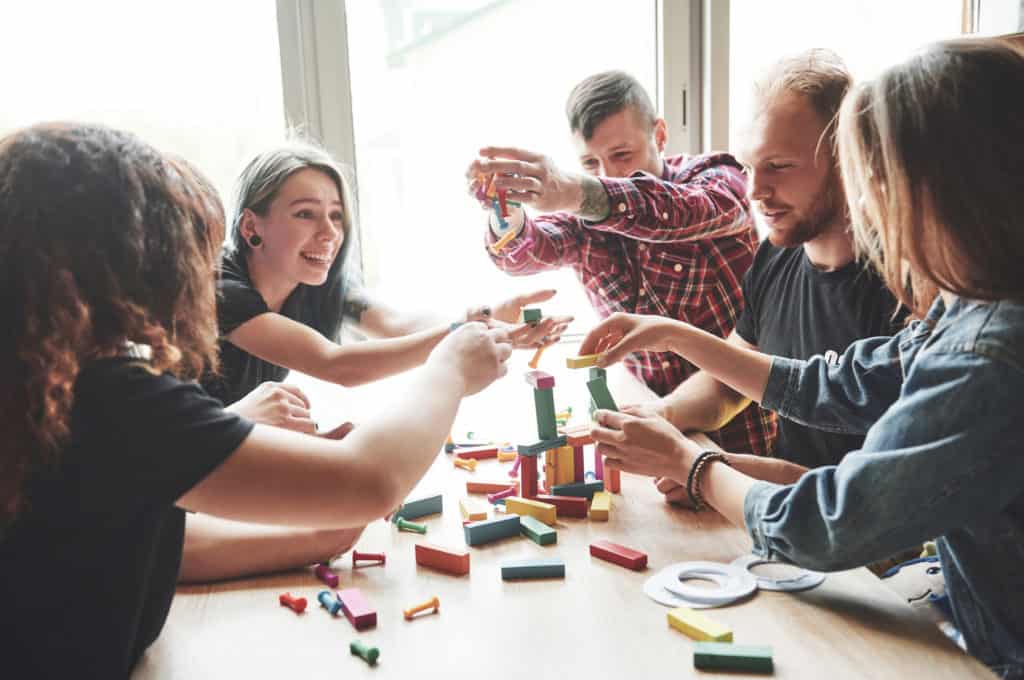 My friends and I never get bored of playing fun board games.
You can either play drinking board games or just regular board games. Board games are fun because you can form teams or just crush each other! And as the competition grows more fierce, so does the fun.
Here are some of my all-time favorite board games for Friday nights:
2. Cook together
If your friends are getting together, why not cook something delicious?
Perhaps you can make an intricate dish like lasagne!
One of you can make the main sauce, the other can make the cheese sauce, and then you can layer the lasagne together!
The best part about cooking together is you can play loud music and dance or even sip on some wine while you cook.
3. Watch a movie together
One of the best things to do on a Friday night with your friends is to watch a movie together!
You can either go to the local theatre to watch the latest movie or just start watching a movie on your TV.
Brownie points if you can do a movie marathon.
Just pop some popcorn and get some soda before laying back to watch a fun or scary movie!
4. Play truth and dare
One of the best games to play is truth and dare.
It becomes more fun when over 3-5 people are playing. Here are some questions you can ask your friends if they decide to go for truth:
What is your most embarrassing moment?
When was the last time you lied?
What is your biggest fear?
Have you ever broken the law?
What is the worst date you've been on?
What is the drunkest you've ever been?
Here are some more ideas for truth and dare!
6. Have a Spa day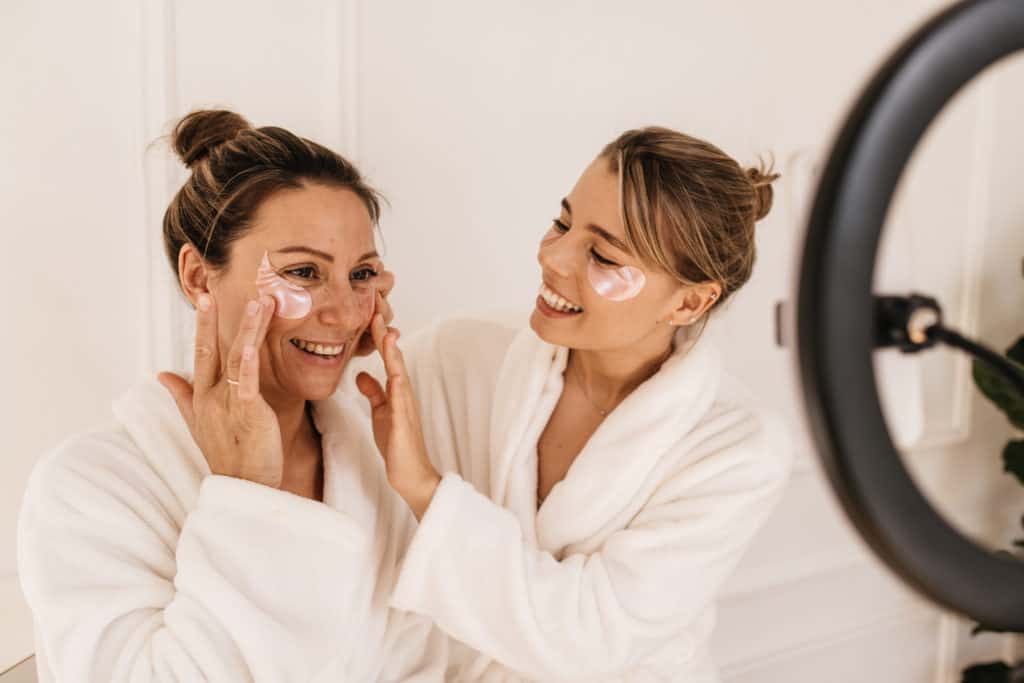 If all of you girls are getting together, why not have a spa day?
Here are some great ideas of what you can do:
Give each other manicures and pedicures
Do a face mask or face exfoliation followed by steaming
Have a hot oil treatment for your hair followed by shampooing and a hair mask
You can do all of this while sipping on homemade screwdrivers or wine while lighting scented candles throughout the room.
You can use natural home-ingredients (like coffee grounds and coconut oil for face scrubs) or you can get some from the store.
7. Do a makeover
Similar to a spa day, you can also give each other makeovers.
This is such a favorite pass-time when my girlfriends get together. We watch a few make up tutorials on YouTube and then replicate those looks on each other.
You can do fancy eye make up or nail art and it's tons of fun!
8. Memory game
This is a game that can be played if there are more than 4 people.
Everyone dumps a few items in 1 bag and one person takes them out one by one while announcing the item.
After the items are all called out, the rest of the players have to write down the list of all the items they can remember.
The person who lists the most items, win!
If there are tons of people, you can even form teams to play this game!
9. Create a fun video together
You should always treasure these moments with your friends.
One of the best things you can do to make a memoir is to create a fun video with your friends.
You can make a short video where all of you get to decide who is going to say what or you can wing it and just start recording while talking about what you like about each other.
This is a great keep-sake and it can all be done with just 1 phone!
10. Potluck
Everyone loves food.
And dinner parties are often very stressful for the person hosting the party at their house.
So, why not make it easier and more fun for everyone by participating in a potluck?
Everyone gets to cook something they're great at and they can all bring it to the party.
One of you can make pasta, one can be in charge of brownies, one of you can make a salad, and so on!
11. Go on a road trip
How about planning a fun, impromptu road trip?
Perhaps there is something super exciting happening near by and you can get there in 4-5 hours?
Just hop in a car and go!
Don't forget to fill gas and take plenty of snacks with you.
12. Host a barbeque
Barbeques are always fun!
And it doesn't have to be meat, there are plenty of vegetarian and vegan options too!
You can go all out by making tons of side dishes like mashed potatoes, create different dips for chips and even work on salads apart from the main course.
Barbeques are tons of fun because every friend can be in charge of something. One can get the charcoal and be in charge of grilling, someone can do the marination, and so on.
The idea behind finding something to do on a Friday night with friends is picking a task that everyone can participate in!
13. Go window shopping
You can do this online or you can actually go to the mall and window shop.
If you really want to buy something, set a budget so that you don't go overboard.
And whatever you do, don't go shopping while drunk or you could end up buying things you don't even need!
14. Karaoke night + Singing Game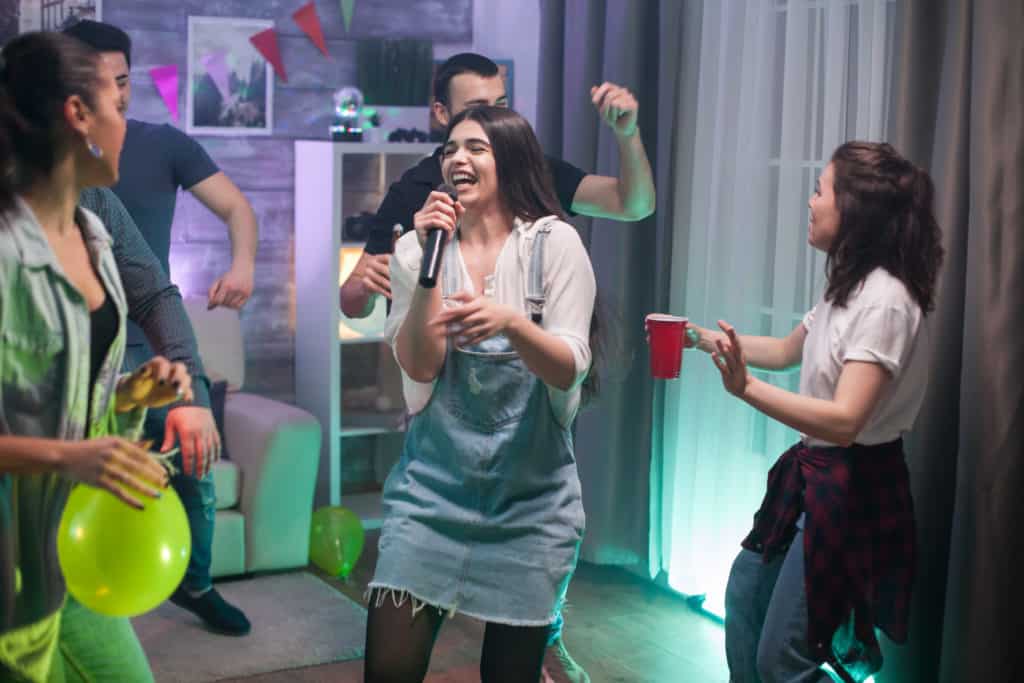 You can either host a karaoke night party at home or go to a nice pub where there's karaoke night.
This not only gives you a chance to sing and drink, but you can also eat some great food!
If you decide to host at home, order some fun food like pizza or Chinese!
If you want to go an extra mile, you can even play a game where you create 2 teams and each team has to sing a song that starts with the letter or sound that the previous team ends with.
For instance if Team A sings a song that ends with the letter M, then Team B has to sing a song that starts with the letter M.
It's super fun and can get really competitive!
15. Watch the sunset together
Nothing beats watching the sunset together while talking and telling each other stories.
Getting together with your friends on a Friday night means sharing memorable experiences while recounting good times!
And if you all have had a tough week, then this is the best way to relax.
Just take deep breaths while sharing some good stories.
You can also do it over a nice cup of coffee or tea.
16. Visit a bookstore
I have a few friends who are voracious readers like me.
And once a month, we like to go different bookstores just to check out books.
You can easily pass hours like this! And there are some book stores that are combined with cafes so you can buy books and then read it in the adjoining cafe.
Once you're done buying books, you can talk about all the books you've purchased and geek out over each other's books.
This is a fun activity for book lovers!
17. Go out for dinner
If you've been meaning to try a new restaurant, why not go as a group?
You can all share the love of the new place by just visiting and gorging down on each other's food.
Sharing is caring!
18. Hold a craft night
Log on to Pinterest and find some fun crafts you can try at home. Each person can pick the craft that they are most interested in.
You can try:
Paper mache projects
Knitting
Origami
There are tons of DIY tutorials online and you can make anything your heart desires!
You can also go craft shopping to the nearest stationery store and get all your supplies before getting started.
It's tons of fun!
And if your projects look nothing like the tutorials, you can have a good laugh together!
19. Go to a cafe
Cafes are warm, peaceful and just overall a haven for hot beverage lovers.
So, why not make a trip to a cafe nearby?
You can get yourself some croissants, buns or quiches with your favorite hot beverages and then have a nice little chat together.
If you are book lovers, you can take your favorite books to a cafe and then read next to each other while sipping on some nice coffee.
20. Do a puzzle
You can grab a 1000 piece puzzle from any store!
And then all of you can sit together while assembling it on the dining table or the living room floor.
You can even assign sections to each friend so that you can finish it quickly.
Puzzles are a great way to challenge yourself mentally while simultaneously having a good time!
21. Go to an arcade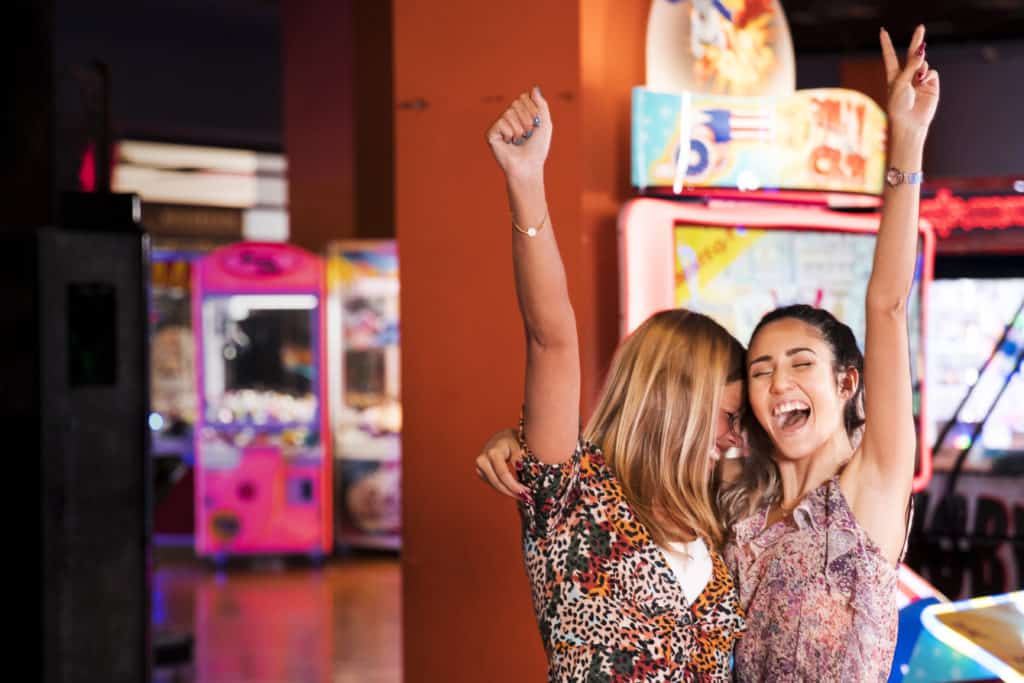 Once in 2-3 months, my friends, boyfriend and I all go to an arcade.
Going to an arcade on a Friday night with friends is one of the best ways to have fun!
And although I suck at most of the games, I have the best time.
Arcades are a fun way to bond with your peeps. You can go bowling together, or shoot hoops or even play Dance Dance revolution!
If you are a big group, you can even form teams so the games become more challenging and fun!
22. Play charades
Want to play a game that involves no talking and only cursing?
Play charades.
Everyone takes 6-10 individual pieces of paper and writes down a couple of movies on each slip.
They then put it in a bowl and then act out the movie to their team.
Charades is usually played in teams and is so much fun! Try it out for yourself.
23. Escape Room
If you've never played an escape room before, you're in for a lot of fun.
Do a quick Google Search on the best escape rooms in your city and town and hit them as a group.
You may or may not solve the challenge, but what matters is solving the puzzles together!
Escape rooms create a lot of stress because it is timed and it can be a lot of fun to play with your friends.
Check it out!
24. Go camping
If you don't want to step out of your comfort zone, you can even hold a camping trip in your backyard.
Tell stories around a bonfire while cooking marshmallows and hotdogs on sticks.
It's a great bonding experience!
25. Bake something
If you're hungry and just want to make something simple at home, why not bake something delicious?
You can bake cookies, brownies, muffins or even bake a whole cake!
Just look up a fun Youtube recipe and try it together.
Cooking and baking is a fun way to bond and is one of the best things you can do on a Friday night with friends.
26. Volunteer together
If you really want to do something different and make a positive impact in this world, why not volunteer together?
Check out some local organizations that you can volunteer at like a soup kitchen.
You can all visit an old age home together and brighten up some people's day.
This is not just a great way to bond, but it will also make all of you feel good because you are making the world a better place.
27. Visit a comedy club
Go online and check out the nearby comics that are hosting around you and book tickets to a show!
You can all have some great laughs and it will be a memorable night together.
28. Have a themed party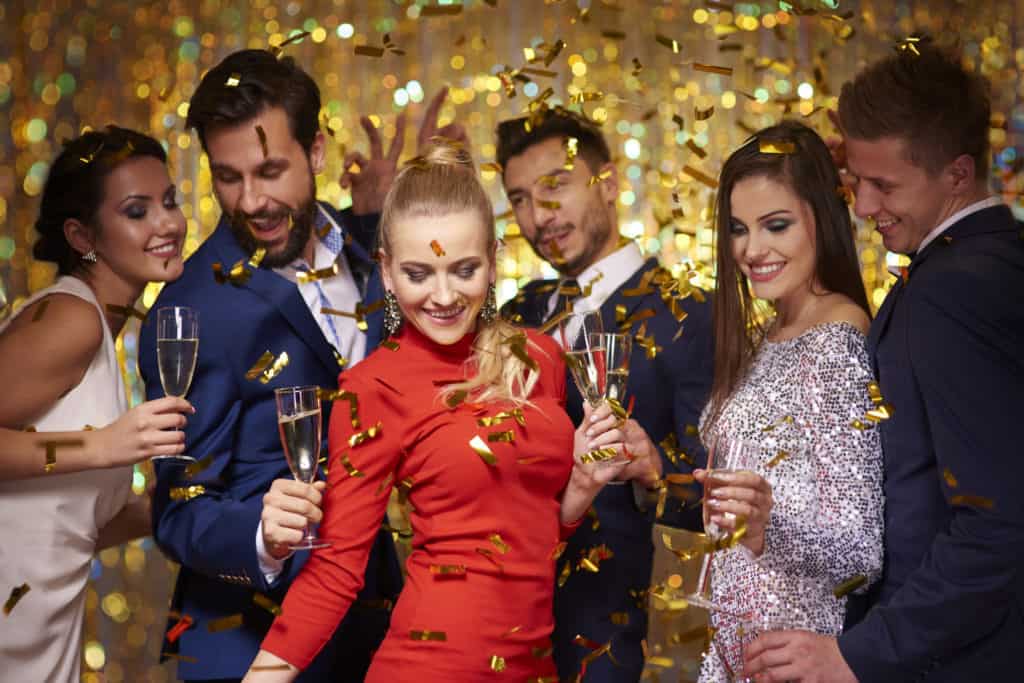 Want to do something fun while also being ultra creative?
Host a themed party!
The theme can be anything. Who says you gotta dress up only on Halloween?
And give a prize to the best-dressed person as well!
Here are some fun theme party ideas:
70's, 80's or 90's dress up
Barbie Dream House
Game of Thrones
Disney Princesses
Superheroes Dress Up
The possibilities are endless!
29. Visit a museum or art gallery
A lot of people have lived for years in their local town or city and have never visited their own museums or art galleries.
So, do a quick google search and discover a museum or art gallery nearby.
Take a trip with your friends. It will be fun!
30. Go out dancing
If all of you love to dance and just want a night of fun and relaxation, why not hit the local club and just dance?
It will give you a chance to dress up, break loose and just have fun!
31. Redecorate the house
You can pick a friend's house to redecorate and all of you can move stuff around or redecorate the house!
It's such a fun activity.
Brownie points if you deorganize and declutter too. And you can hold a garage sale the next day!
32. Murder mystery party
This is such a fun game to play on a Friday night with your friends!
You can get together to solve a fun murder mystery. And you can also go all out by wearing costumes.
Give it a shot!
33. Trivia game night
You can host a trivia game night in your house! You can either form teams or play as single players.
The point of the game is to win the most points by answering the most questions correctly.
Here's a fun Trivia Game you can purchase!
34. Play poker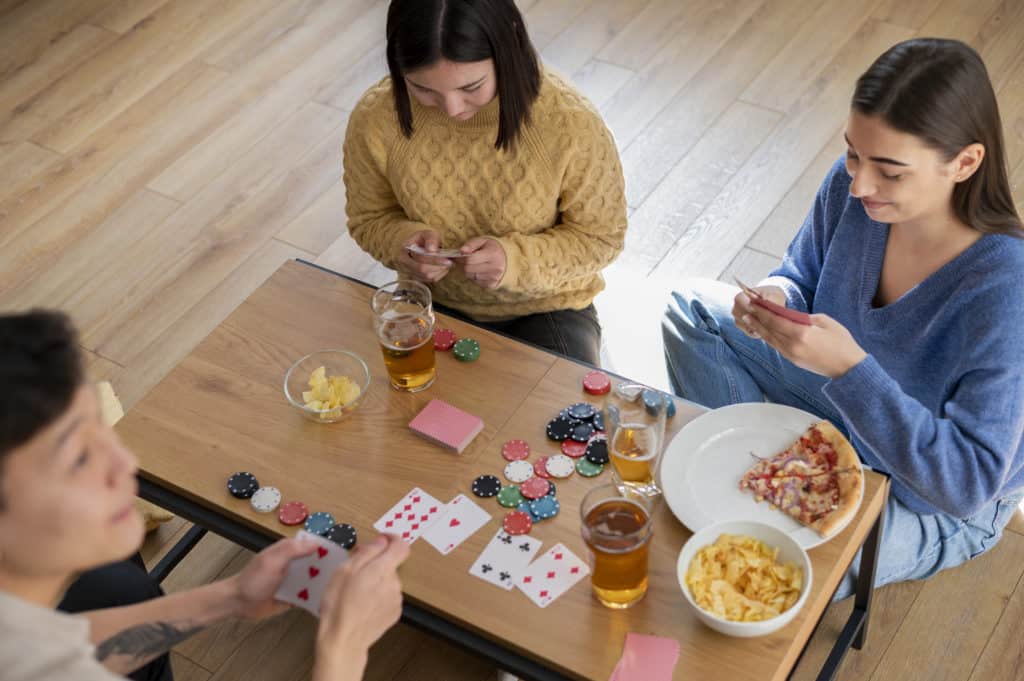 If you don't want to leave your respective houses, you can play poker online!
Or you can get together and play poker together face to face.
Either way, the game is a lot of fun!
35. Start a book club
You can start a fun book club together.
If your friends don't read as much, keep the book club nights only once a week and choose books that also come as audio books.
These are so much fun and you can change genres every month so that it's fun for everyone!
36. Cook a traditional dish
I think this is a fun challenge for everyone.
This is very similar to a potluck. Everyone has to cook a traditional dish that they honestly love.
They can use their mum's or grandmum's recipe and make something from scratch.
This is not only a fun way to bond over food, but it's a great way to learn where your friends are actually from.
37. Go to the park
Every activity you and your friends do needn't be something elaborate and planned.
You can also have a nice, quiet evening to yourselves by taking a walk in the park.
You can talk, share stories and even have a picnic in the park!
38. Color your hair
One of the best things to do with your friends on a Friday night is color your hair different colors!
Go shopping and get yourself some fancy hair colors (temporary or permanent) and then share fun stories while coloring each other's hair.
It's so much fun!
39. Go on a trek
Going on treks are so much fun! Although my friends and I only do this once in a while, we love going for them!
You can take tons of great pictures and even have a nice picnic at the end of the trek.
40. Visit an amusement park
Go wild and visit your local amusement park.
Play tons of games and buy a lot of street food while going on fun rides.
You can even visit a water park too!
41. Make ice cream at home
You can each make a fun flavour of ice cream at home. Get your favorite fruits or go nuts and make a chocolate or coffee ice cream from scratch.
The flavours are endless!
You don't even need an ice cream machine if you whip the cream by hand.
42. Make a pizza together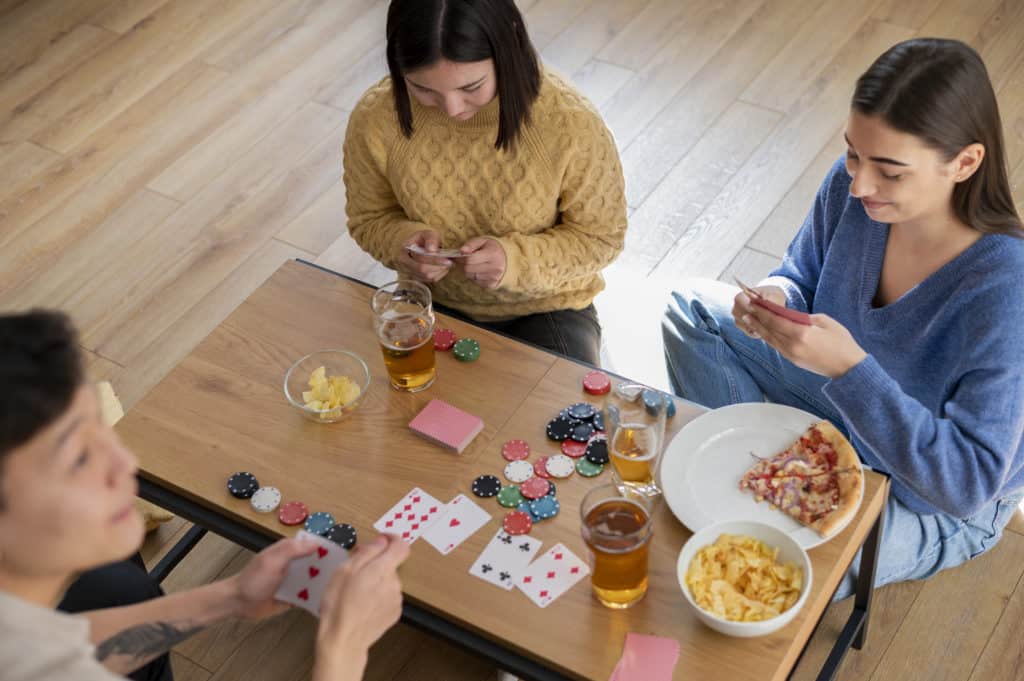 One of the best things you can do as friends on a Friday night is to make a pizza from scratch.
The pizza will turn out great! Just head to your local grocery store and get all the ingredients before hand so that you can get started right away!
43. Take an class together
You can either take a fun physical class together like a pottery class or a cooking class or you can watch an online class together!
Learning becomes so much more fun when you do it as a group!
44. Plan a weekend trip
It's Friday night and you have the whole weekend ahead of you.
Why not plan a fun weekend trip together? You can also order a pizza and have a few drinks while you make a stellar plan!
45. Start a business together
This is a totally out of the box idea but if you've been close friends for a long time and have always wanted to start a business together, why not come up with a solid plan and get started?
It will be tons of fun!
Conclusion
There are so many things you can do on a Friday night with your friends!
I hope this post gave you tons of ideas and your Friday night is a success.
If you have more ideas, let me know in the comments below so I can add it to this list!
Here are some posts you may enjoy: