Last Updated on April 8, 2023 by Angela Vaz
You and your boyfriend are bored.
You want to spend time together doing something super fun, but you're out of ideas.
Every item on this list is a thing my fiance and I do when we have one of those moments.
Here are 23 spontaneous things to do with your boyfriend!
Let's begin.
But before that really quick, get my free guide on how to really reset your life.
This post contains affiliate links, meaning I may make a commission at no extra cost to you if you decide to click on a link and purchase something. Click here to read the full disclaimer.
1. Take an impromptu road trip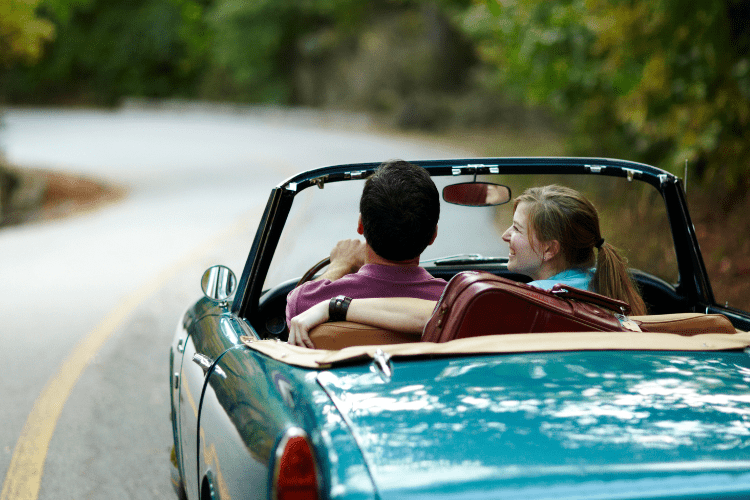 Whenever we feel really claustrophobic because we've been sitting around the house for too long, we make it a point to leave the house and just go out!
We both love road trips.
And even if we don't have the time to do a whole staycation, we go for a short 3-hour road trip.
We make a plan to eat breakfast outside and just pack coffee in our portable cups and go!
We usually leave early morning and try to be back by evening.
Sometimes we take our dogs with us or we get my dad to puppy-sit while we take a short impromptu road trip!
This is so much fun.
We play loud music in the car and sing along, or word games, or just talk about our week and our plans.
Make sure you step out of the car from time to time so you can take in nature and its surroundings.
2. Get a tattoo or a piercing
My fiance has a goal of getting 52 tattoos by the time he is 52.
And we wanted to do something together, so while he got his 16th tattoo, I got my ears pierced again.
It was fun and we really enjoyed doing it together.
Obviously, this is not for everyone but do what feels right to you.
If tattoos and piercings are not your jam, then do something else.
Maybe you can go get a haircut together or you can go dye your hair together.
What matters is you both are on the same page and want to do something wild together!
3. Play a sport together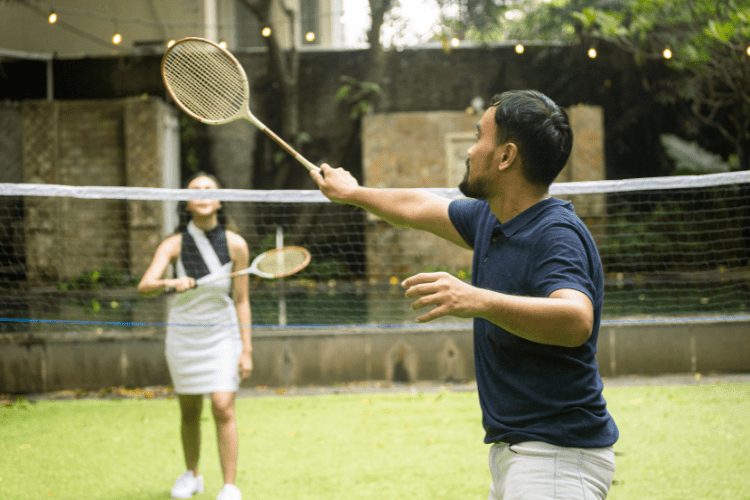 Sometimes when we're feeling sleepy and bored, we'll just head out to the basketball court and shoot some hoops.
I don't play that well, but what matters is we have fun and are getting healthier together.
You can play any sport you both love – maybe you can go swimming together or you can play badminton.
If you have another couple of friends, you can also play doubles!
4. Go to a nearby town or city
Visiting a nearby town or city that you haven't been to before can be a great way to explore a new place and discover something new together.
You can check out the local shops, restaurants, and attractions, and have a fun and adventurous day together.
We went to Pondicherry recently – it's a city where a lot of French people still live in Southern India and it was beautiful.
There are quaint little cafes and restaurants that serve beautiful french food and my fiance and I really loved the whole experience – we stayed there for a whole weekend and when we got back we felt blissful.
5. Try a new restaurant together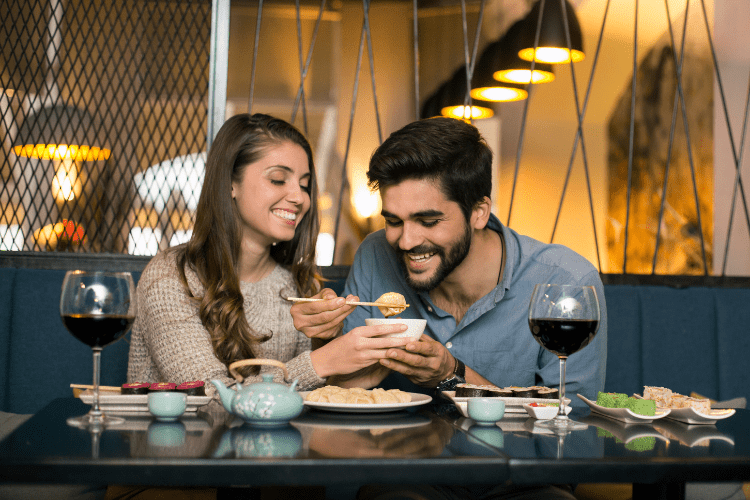 Whenever we walk in the city, we usually spot a fancy restaurant that we both want to try.
So for our next date, we make sure we try the new restaurant out.
If food is something both you and your boyfriend enjoy together, then you should definitely try this.
You can also check on Google and see which restaurants are closest to you that you've never tried before.
Go through the reviews to make sure the food and service are good before going.
That's the minimum research you can do before you head out on a romantic date with your boyfriend.
6. Go to a concert together
My fiance and I just went to an MLTR concert and we both loved it so much.
They were just as I imagined them to be and surprisingly they hadn't changed.
Both of us had grown up listening to MLTR so it was a very sentimental and joyous experience for both of us.
We held each other and swayed gently to the music as we watched one of our favorite bands perform live.
After that, we picked up some food and headed home on a long, romantic drive.
There are apps that usually showcase what shows are playing in your town/city and you can book tickets and go.
7. Take a fun dance class together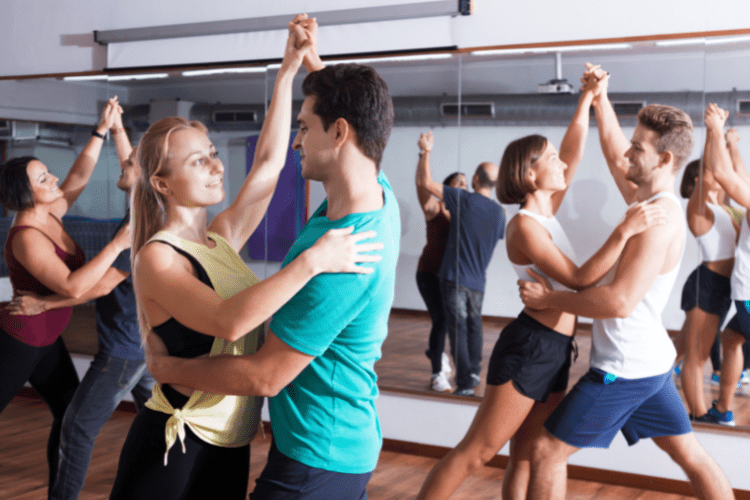 Take a dance class together: Dancing can be a fun and exciting way to bond with your boyfriend.
Sign up for a dance class that teaches a style you're both interested in, such as salsa, swing, or ballroom.
8. Go to a farmers market and cook a meal
Go to a farmers market and cook a meal together from scratch.
Visiting a farmers market can be a fun and relaxing way to spend time together, and buying fresh ingredients can make for a delicious meal.
Look for a farmers market in your area and pick out some ingredients to cook a meal together.
It helps if you decide on a recipe before you head out so that you will know what to buy.
My fiance and I usually plan our meals together and get all the ingredients before we cook.
If you're going to a farmer's market, it's also a great way to support local farmers and learn more about where your food actually comes from.
9. Go to a comedy show together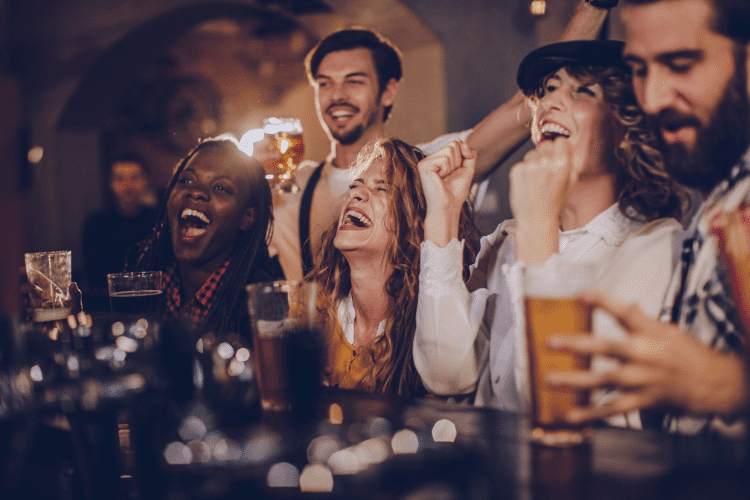 Go to a comedy show or open mic night – Laugh together by attending a comedy show or open mic night.
This can be a fun and lighthearted way to spend time together.
You can also get some drinks and enjoy some good food.
We made a whole new bunch of friends when we did this. People are usually very laid back at these shows and it's a fun way to talk to people and expand your social circles.
10. Try a new outdoor activity together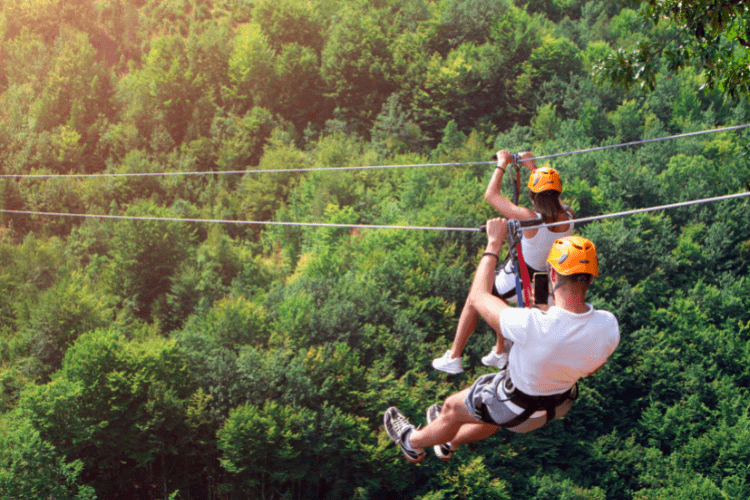 Try something fun together that you have never done.
Something like rock climbing or kayaking – this is a wonderful opportunity for both of you to get active together by trying an outdoor activity you've never done.
It's also a fun way to spend the day and spend time together challenging yourselves and getting more fit.
11. Go to an amusement park
Go to a trampoline park or amusement park – Have a blast together at a trampoline park or amusement park. This can be a fun and thrilling way to spend time together and let loose.
You can play games together and win prizes together.
Let out your competitive side and compete with your boyfriend – there is nothing more fun than playing against him – trust me.
You can also buy corndogs and cotton candy together and try out all the new, fun things side by side.
12. Go to a lake together
Visit a nearby beach or lake – Take a trip to a nearby beach or lake and enjoy the water and sunshine together. This can be a great way to relax and unwind together.
Sometimes we take the dogs and make a day out of it.
We let them swim and play fetch with them and we do it all with a picnic basket.
My fiance loves swimming so he swims with the dogs while I take videos.
13. Take a class together
Take a painting or pottery class together – Try your hand at a creative activity by taking a painting or pottery class together.
This can be a fun and satisfying way to spend time together and create something beautiful.
14. Throw a house party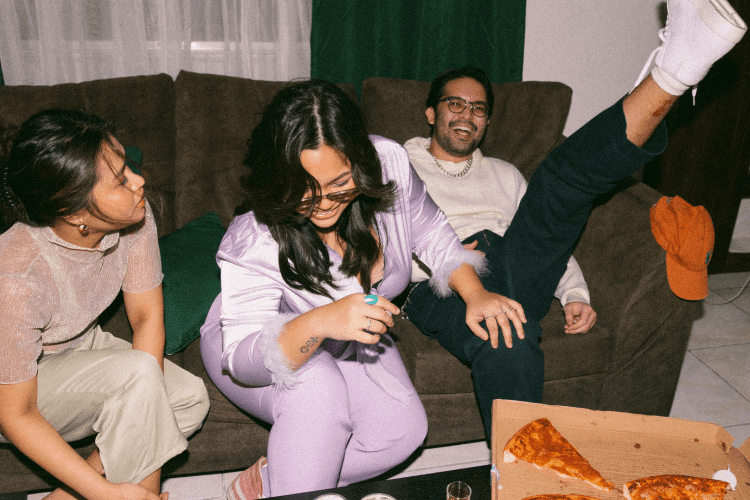 We do this every Wednesday.
We call our closest friends and throw a little house party.
We make the dips together and buy some finger good and host a game night.
You can play games, watch movies or just catch up. There are so many fun things you can do together.
You can also karaoke or take a long drive together with your friends at the end of the night.
Order pizza and share a few laughs over some crazy stories.
Just remember to have fun.
15. Do a movie night
Sometimes my fiance and I like to do an impromptu movie night – since we don't watch TV often, this is a rare treat.
We plan a movie marathon and go all out with the food.
Then we cozy up together on the couch with our dogs and watch movies back to back while snacking and drinking.
It's a warm, cozy activity you and your boyfriend can do together.
16. Have a picnic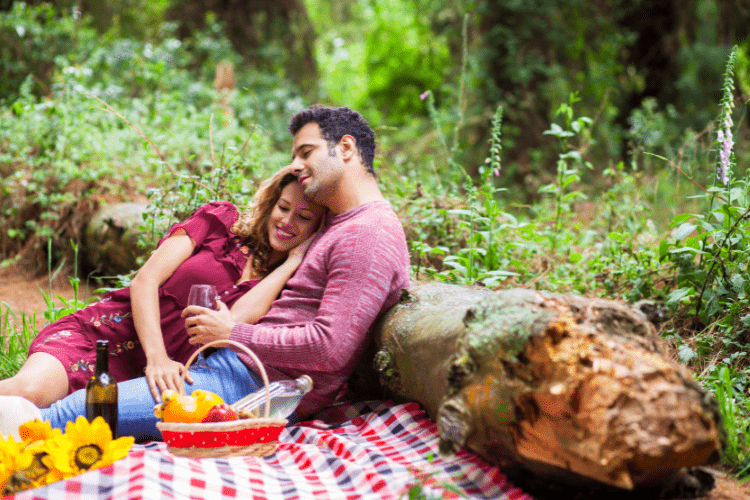 Having a picnic in the park or at the beach can be a fun and romantic way to spend the day.
You can pack a lunch or snacks, find a nice spot, and enjoy each other's company while enjoying the fresh air and beautiful surroundings.
My fiance and I usually pack sandwiches, coffee, and juice.
Sometimes we stop by a bakery and get some croissants with quiches because we are foodies and we eat a lot.
If you have pets, you can take them along too and just spend the day outside at a nice picnic spot.
17. Go bowling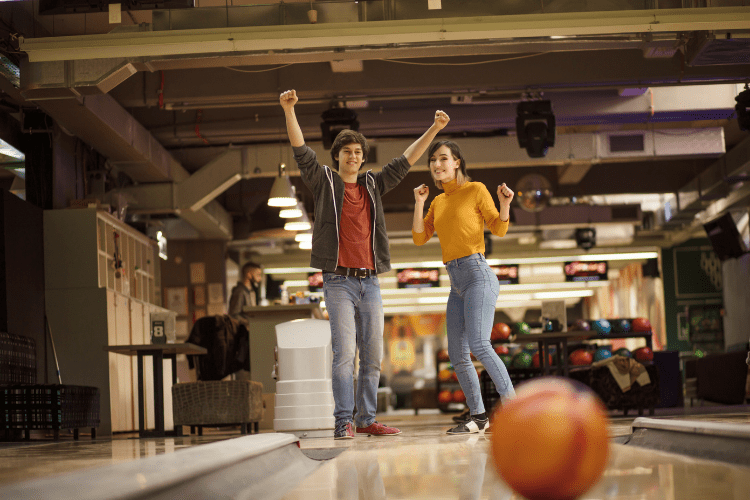 Ah, bowling – it's one of the most fun games I've played with my fiance and our friends.
Usually, we all go as a group, but sometimes my fiance and I go by ourselves and make a night of it.
We then go on a dinner date together and it's fun – you'll have a good time together.
You can never go wrong with bowling.
18. Go for a walk or take a fun trek together
Sometimes these places need an advanced booking but honestly, if you're looking for a way to spend the whole day with your boyfriend – just do it.
My fiance and I went on a trek together and we loved it so much.
I am not a pro by any means but he was patient with me and we got to enjoy listening to the birds and admiring nature.
We took a lot of photos too and the whole day was bliss.
We felt so renewed and peaceful afterward.
Going for a walk or hike in a nearby park or trail can be a great way to spend time together and enjoy the outdoors.
You can both explore new paths, take in the scenery, and have a chance to talk and connect with each other.
19. Go to a museum together
If you both have a flair for knowledge and love learning new things, pick something both of you love.
Maybe you can go to the aquarium together or to a museum.
Take a long drive there and just learn new things together. Talk about what you've learned.
Sometimes when we do this, we go to a bookshop or library to buy books and study some more!
20. Bake together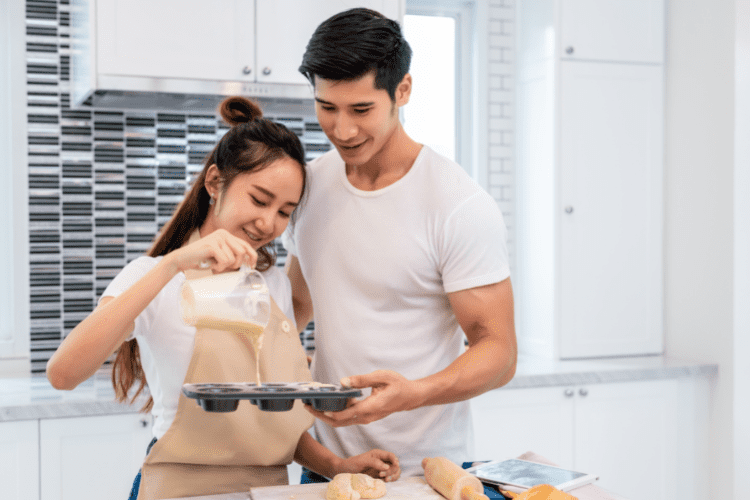 Baking is beautiful because if you follow a recipe to the bone, you can't go wrong.
You can also choose what to do separately
For instance, I usually gather the ingredients while my fiance does the mixing. And we bake together.
You can do something super easy like cookies or you can bake a whole cake and share it together or call your friends over after to eat what you've baked.
21. Stargaze
It's underrated.
You see it so much in the movies, the thought of stargazing might make you roll your eyes.
But there's something about doing nothing but looking at the stars that makes you feel at peace.
You both realize that time is relative and you are but one small fleck in the whole universe.
It makes you think.
It allows you breathing room to just do nothing and take it all in.
And the best part is, you both are looking at the sky together.
You can lie down on a blanket in the park or you can go to your roof.
If both options aren't for you, then just sit on your balcony and look at the sky together.
22. Go to a bookshop together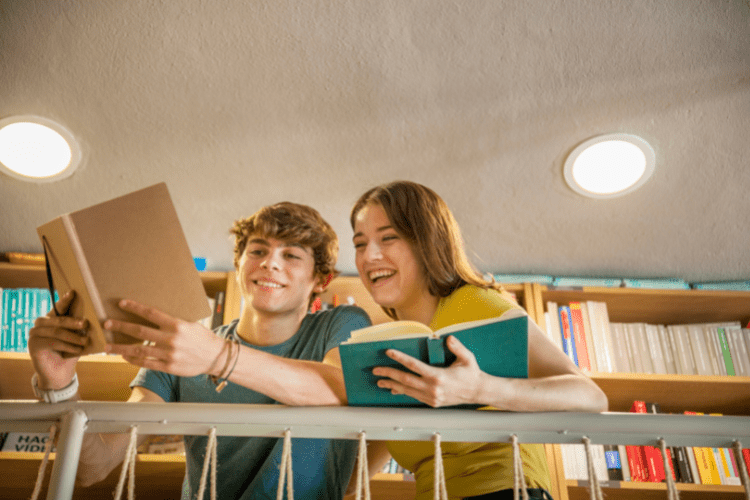 If both of you love to read and you both love books, then this is the perfect activity you can do together.
My fiance and I spend hours together at a bookstore and we both take peeks at each other's picks.
It's such a beautiful hobby you can do together and you can compare books and read each other's books.
My genres evolved and expanded so much after dating him because I've read so many wonderful books of his I'd never have read otherwise.
23. Play a board game together
If you don't feel like going out tonight and you just want to sit indoors and do something simple (without a screen), then you cannot go wrong with a board game.
We usually play the Game of Life or Taboo.
It's fun and both of you can pick a game that you enjoy playing.
I hope you loved this list, here are some more fun posts you might like: